SWLEP has a business-led Board, chaired by Paul Moorby, CEO of Chipside, an SME based in Brinkworth, Wiltshire and a small core team headed by Chief Executive Officer, Paddy Bradley, to coordinate delivery across of our Skills & Talent, Transport, Digital Capability, Place Shaping and Business Development projects.
We publish Register of Interests for all Board Directors, Advisers, Observers and SWLEP Team Members who provide advice in the decision making of SWLEP. These are available through the biographies here.
The Swindon & Wiltshire Local Enterprise Partnership (SWLEP) is committed to being as transparent as possible about what we do, holding our Board Meetings in public and making all key policies and procedures available.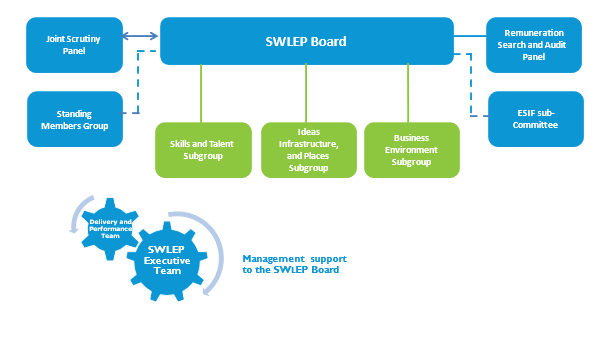 We welcome attendance by the public at our meetings and participation, including the opportunity to ask questions. Anyone wishing to submit questions to the SWLEP Board should do so in writing five days prior to the Board meeting via email to [email protected]
Where the nature of the business of a Board meeting is deemed confidential, the public will be excluded from the relevant parts of the meeting as outlined in Appendix C of our Assurance Framework.
Our work is scrutinised by the Joint Scrutiny Task Group, which has a fixed membership of equal numbers from Swindon Borough Council and Wiltshire Council.