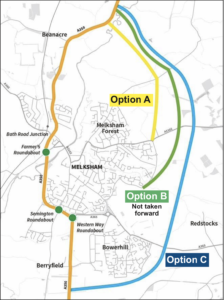 The A350 is one of the most important routes within Wiltshire. It is a primary north-south route with regional significance connecting the south coast (the port of Poole in particular) with the M4 and onwards to Bristol and the Midlands. In Wiltshire it passes around the principal settlements of Chippenham and Trowbridge via the town of Melksham and neighbouring village of Beanacre, and on to Westbury and Warminster. At Melksham, the A350 serves multiple functions. It is not only the main north-south route through the town, but also the main east-west through route (between A365 Western Way and Bath Road). It also provides access to the town centre and retail developments along the A350 itself for local traffic.

It has been a long standing priority for the council to improve north-south connectivity along the A350, but to also recognise the important local function that the existing route serves at Melksham, and issues such as journey time delays and poor reliability, accidents, severance and noise and air quality.

Wiltshire Council has developed an dedicated web page which contains background information regarding the project, which can be accessed via the following link:-

https://www.wiltshire.gov.uk/highways-a350-melksham-bypass

The webpage provides access to information packs covering areas such as:-
A350 route & need for the scheme
Objectives & assessment criteria
Key physical constraints & full range of options
Route information
Emerging findings
Potential for complementary walk & cycling improvements

Also included on the webpage is a link to an on-line questionnaire, and a series of FAQs regarding the project.

We would encourage you to access the information provided, and to engage with us by providing your comments, views and suggestions through the on-line questionnaire.

The survey closes on 30th November 2020. At this stage, we are seeking feedback on the early stages of the scheme – this is not a statutory consultation. If the scheme progresses, statutory consultation will follow in due course.