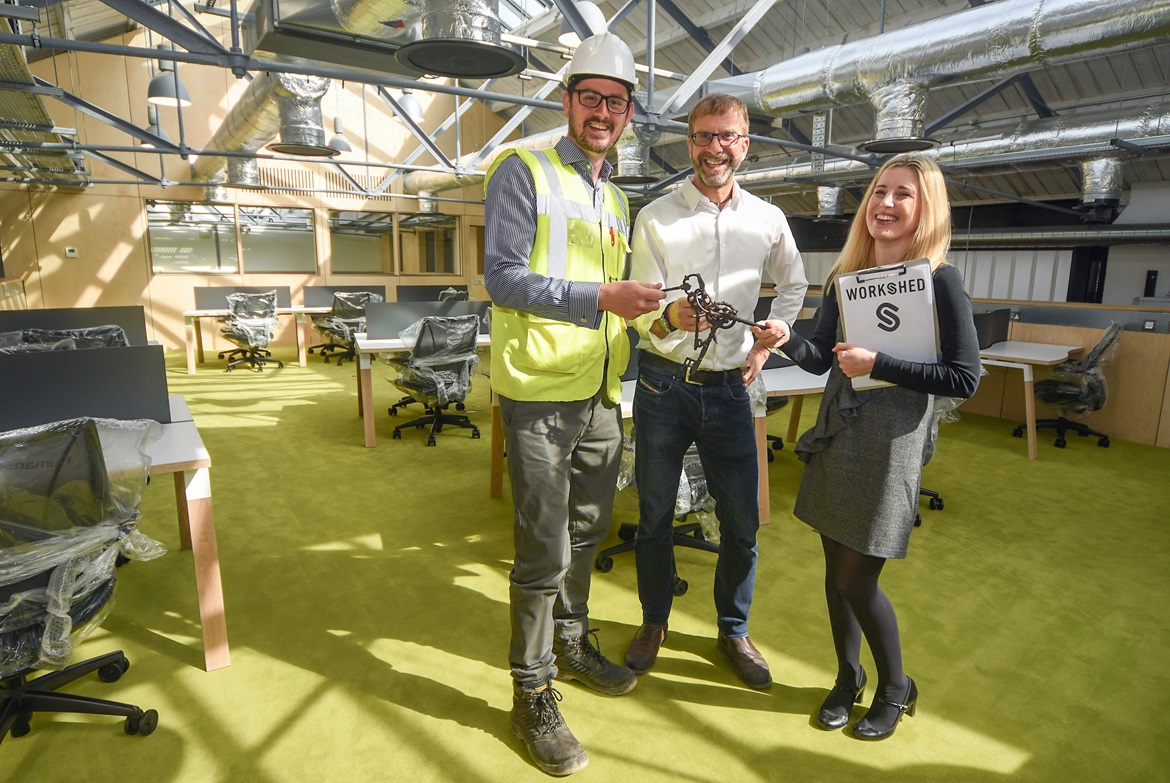 SME Innovators' Incubation Centre Opens 1st June. Swindon's New "Workshed" Offers 150 Co-Working Spaces after £1M Carriage Works Refurbishment.
As part of Swindon's post-industrial renaissance, it plans to become a 21st century "Centre of Technological Excellence". On 1st June Swindon launches an exciting Business Incubation Hub with affordable office space for dynamic start-ups and fast-growth businesses, especially those involved in innovation or "Disruptive Technologies". The Workshed is based in the world-renowned former Brunel Railway Carriage Works and its £1M refurbishment is part of Swindon's overall regeneration. The Workshed offers an historic, industrial workspace that so many cutting-edge, creative and technology companies love, with co-working packages starting at just £75 pcm.
However, The Workshed is so much more than competitively priced office space with an airy, pleasant working environment! It's all about the people. Newly appointed Centre Manager, Jol Rose, (seen here picking up the keys) has an overarching goal of creating a vibrant business community where people can network, inspire each other, learn and grow their businesses at an accelerated rate. Jol Rose is hoping to attract inventors, innovators and business owners with a certain mindset in industries such as Science, Technology, Research & Development and Digital Arts. Jol says "Brunel was a major innovator 200 years ago with his engineering triumphs of trains, tunnels, bridges and ships. The Workshed brings innovation right back to the heart of Swindon! Inventors face so many disappointments before they get their breakthroughs. Think of Edison's thousand attempts at creating the light bulb! Our vision is to nurture business owners and help them thrive in a supportive atmosphere."
The Workshed's mix of high-spec services in industrial heritage buildings is in sharp contrast to many bland, modern offices. Just 500 metres from Swindon railway station, close to the town centre and with ample parking onsite, it comprises 7,000 sq ft of heritage architecture transformed into state-of-the-art office space, meeting rooms and conference facilities. The mainly open-plan co-working space has 150 workstations with some serviced offices and hot desking facilities popular with start-ups and small companies. Being near the railway station and M4 means highly-skilled staff should be able to commute easily from surrounding areas.
Positioned in the Heritage Quarter of Swindon, between The Mechanics Institute and The Swindon Designer Outlet Village, those working late can benefit from several restaurants nearby!
Why Should a Business Relocate to The Workshed?
There's a balance to be struck between price per square foot, location and ambiance. Compared to Bristol, London and Reading, Swindon's office rentals are already much lower. However, even within Swindon, The Workshed facilities are very competitively priced. Easy in-Easy out terms reduce risk and personal liability of business owners if things don't go to plan.
Swindon Borough Council owns the business centre while The Enterprise Network, (a Wiltshire Council initiative) will be responsible for day-to day operations and centre management. The historic Carriage Works are an integral part of Swindon Borough Council's ambitious plans to regenerate the town centre. The Council is investing £2m in the project and, with Unit 3 almost complete, work has now started on Unit 5, which will add a further 6,000 sq ft of office space.
Cllr David Renard, Leader of Swindon Borough Council, said: "The Carriage Works is a really exciting project and I am delighted to welcome The Enterprise Network on board as we have already attracted a lot of interest from businesses across Swindon, Wiltshire and further afield." He adds "The Council is making a significant investment in bringing these historical buildings back to life and creating a thriving hub for business and cultural uses. We already have some businesses ready to move in and with the Carriage Works' close proximity to the railway station, I'm sure it will be an attractive option for many firms."
Doors open for business on 1
st
June and anyone interested can contact Jol Rose for sneak previews and pre-booking of space. Email
[email protected]
or call 01793 230322.